Dive safe we owe it to those who love us!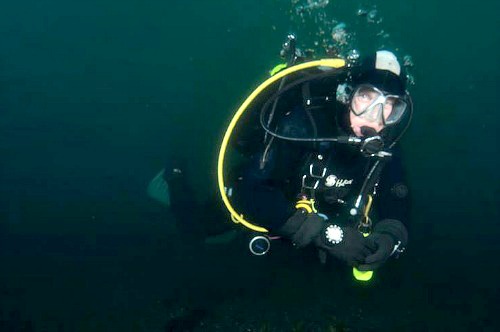 Back Diving
Hello fellow divers

I have been a little guilty of not putting out a fresh segment for awhile, and really, I do not have much of an excuse! Anyway I got to thinking about it and here is what I came up with…. To catch me up, I will share that I broke my ankle in October 2015, which cost me a year's diving, and then in September 2016, I had a back surgery. The details are what they are, but to make a long story short, these events cost me a lot of lost diving time.

So I am finally back in the water, as of July 2017, and as someone that dives mainly from shore, anyone who has done this in temperate seas can appreciate the physical aspect of humping your geared up self, into and back out of, the water.

The magic and mystery of diving is mine to appreciate once again. I feel like a child at Christmas entering the water, the excitement and thrill of diving is something once experienced, is like no other.

One can safely say, it is out of this world!

For the uninitiated, I can tell you that when I am able to vent my BCD, and slowly sink, I enter a state of relaxation and bliss. My mind and my body float in a neutral state. The relaxation one feels is truly incredible, and is akin to a religious fervor (no I am not religious!). Of course, having said this, one has to appreciate that you must make enough dives to become totally proficient in the sport. But once you do, you will be in a beautiful state of mind, whenever you take the plunge.

Now don't get me wrong, at times I get a little wound up before diving. A recent example I have just happened a few dives ago, when myself, and my buddy were enjoying our surface interval. Suddenly a lone Orca surfaced only a few feet from shore, which was our entry and exit point. We did do another dive, but I have to confess, I did look behind me a few times during the dive.

So for those that dive around the Nanaimo and Nanoose area, I am soon going to add a page to my site about a new location called "Oak Leaf", which is located in Nanoose, just a little ways down (west) from Tyee Cove and Dolphin Beach. If you're looking for it, just keep your eye out for a street by that name, and follow it down to the end where there is a parking lot, an outside toilet, and a nice trail to the water.

I have done the dive a few times now, entering from the Eastern side, where the is an excellent pebbled beach, and then working my way around the point, roughly due North, where there is another little, and perfect beach, for entering and or, exiting the water.

The site is pristine, and my go to dive shop, Sundown Diving, owned and operated by Ed Singer in Nanaimo, says the site reminds him of what the early dive sites in the Nanaimo/ Nanoose area, used to look like.

In the few dives I have done there, I have seen lots of Rock Scallops, Octopus, and many varieties of fish, as well as many different types of marine life, such as Sea Pens and Feather Stars.

The site entails a bit of a walk (no more than Madrona Point), but I can assure you, it is well worth it. Myself and my partner just make a few extra trips, setting up our tanks and BCD's at the beach that we use as our entry point, and then dressing in our dry suits at our vehicle before walking back to the water.

There we put on our tanks, do our checks, and enter the water. So treat yourself! This is a great site, that has very good entry and exit points, as well as lots to see and do. No matter your skill level, this is going to be a go to site for those in the know!

Cheers and safe diving!