The Best Diving Gone Bad

The best diving gone bad is my attempt to explain my feelings about scuba diving one month after a "fun dive" (November 2/2012) went horribly wrong, ending with the death of my dive buddy Scott Revane, R.I.P. my friend.

---
Home Page> Share Your V.I. Story> Best Diving Gone Bad

---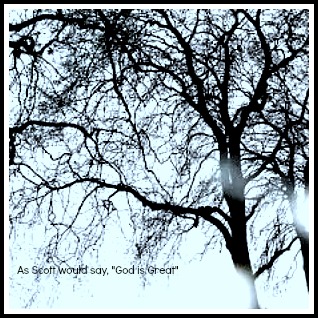 Many may question why we scuba dive particularly after a so called "fun dive" has gone so tragically wrong.

I cannot tell you what went wrong because I don't actually know!

We were both fine at the surface just prior to submerging for our dive, but then in a span of seconds I was in a life and death struggle to save Scott from what I could not see or understand.

The details our grim and I will not share them, but I would give anything to have that day back.
The reality is that Scott did not make it.

His wife was widowed and his children were left fatherless, and many people lost a good friend that day.
Though I felt lucky to have known him, I did not feel lucky that day.

A fatality often brings not but negative connotations along with the Media's grim reminder of our own mortality.
Sadly the Media's spin is one of a deadly sport where unless there is a fatality the "News Story" is a non-event.
As a diver with a few hundred dives logged in Vancouver Islands waters, I can tell you, I Love Scuba Diving!

Yes of course there are risks, but to mitigate the risks we take advanced training, and equip ourselves with redundant systems.

Still sometimes, the worst possible can happen.

If you are not a diver it is difficult to explain the sensation of floating weightless, as in zero gravity. (there is a reason that astronauts train underwater for thousands of hours for "outer space" simulation)
Join this with the marine life you see first hand and on occasion even get to interact with, and you may just begin, to "get it".

We dive because we love it!

I am not interested in hanging from a cliff face with or without a rope.
I would never base jump, or jump out of a perfectly good airplane.
I won't even bungy jump!
But scuba diving for some reason appeals so strongly to me, that at this point of my life, I cannot imagine not being able to do it.
Unfortunately the majority of diving accidents are human error and have little or nothing to do with equipment.
Again we dive safely by minimizing risks!

Yes the penalty for error is severe and often final, but for me I would rather go do something I love and am passionate about than sit in a chair as an observer.
Life is very much an action word, and I choose to be a participant!
I hope Scott would agree with my sentiments. Cheers my friend.
Dive safely for those that Love You!

---
In memory of Paul "Scott" Revane 1959-2012
God is Great!

---
Six months later now and I still think almost daily about what happened that afternoon at Dolphin Beach.
I think one thing I would share for anyone planning to learn to dive is why did Scott not make himself positively buoyant by dropping his weights?
Scott was an engineer and a highly intelligent and organized person and I cannot understand how he failed to execute this basic but incredibly vital part of his scuba training.
I am still deeply affected by the traumatic way he died and can only imagine how hard it must be on Scott's family.

Someone tried to tell me to get on with it, as that is what Scott would have wanted. I say maybe!

My hope is that something may yet be learned by this tragic event that may help other divers avoid a similar fate.

Still miss you Scott.

---
November 2/2013
One year to the day now of Scott's passing.

After 10 months I finally received the coroners report which stated that the cause of death was drowning.

The only unusual addition to the report was the coroners supposition that based on the fact that no one witnessed Scott go from calm and ready to dive to highly agitated, that Scott may have suffered a medical emergency.

The coroner suggests a possible myocardial infarction or seizure, or that Scott may have ingested a large quantity of water that he was unable to recover from.
Sadly for me there is not much revealed in the coroners report.
For myself I was hoping for some sort of closure upon its release, but
unfortunately it was not to be.

I have no more to add at this time, and all I can say is how much that tragic event has shaped the past year for me.
I can only imagine how disappointed and difficult this has been for Scott's family as well, and my deepest sympathies are with them.

Please dive safe for those that love you.
R.I.P. buddy.

---
Jan.11/2015
Well here I am again over 2 years after that life altering day.
It took me about 3 months and a lot of encouragement from some diving friends of mine, but I did begin diving once again. I will say though that I have never quite recovered that same zeal that I used to experience regularly when I dove.
Through some great counseling, the support of friends, and the passing of time, I can once again function in the world.
My life is quite different as I am now separated and single. I don't know how much, or what effect exactly, the accident had on my life. I can only say, it is now, quite different.
As I said, I am diving again though not as much. I also find myself at times diving solo, which I never dreamed of doing before the accident. What makes diving dangerous anyway? My thinking goes along the lines of "was I more, or less safe, the day Scott died"
Having a buddy to share the experience is great to be sure, but I have also found a new peace through solo dives. It's not for everyone and I don't do it all the time, but if I can't find a buddy. I'm OK with it.
Not much else to add other than to remind people to be slow and steady in there dive preparations. Do your checks, do your buddy checks. Stop and think whenever something seems different, always trust your gut.
Be well, and dive safe for the people that love you. Cheers!

Please sign up for Don's E-zine by leaving me your email address