My Children's Story &
Colouring Books
---
Home Page> VI Marine Life> My Children's Books>

---
---
Welcome to my new page about Children's Story/Colouring Books
I'm excited to put this page into circulation and I have high hopes that visitors to www.vancouver-island-dive-sites.com will feel the same.

The images down the right side of this page are examples of the content that can be found inside each of my four books. Thanks, and have fun :-)

---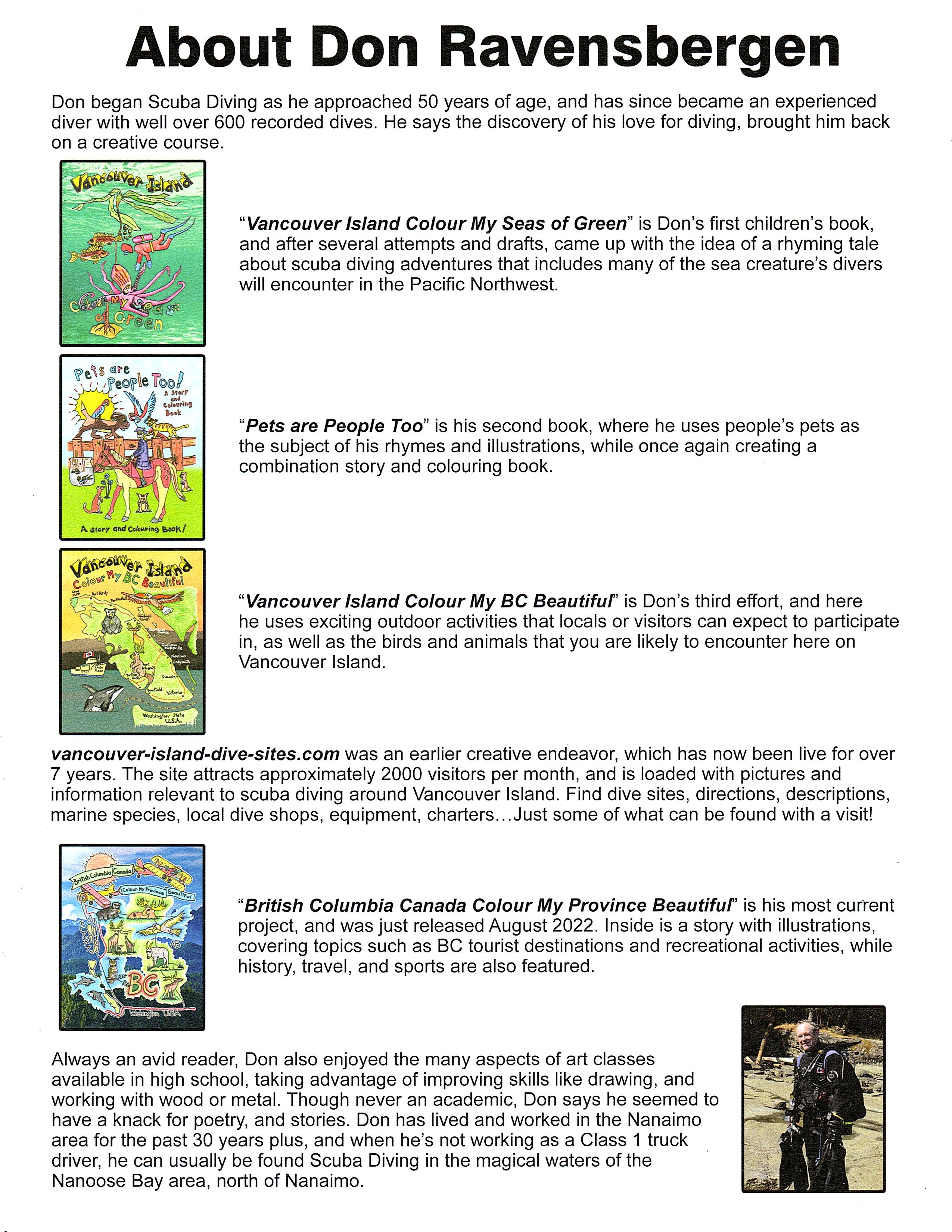 ---
"Vancouver Island Colour My Seas of Green"
My first effort that was born from my love of scuba diving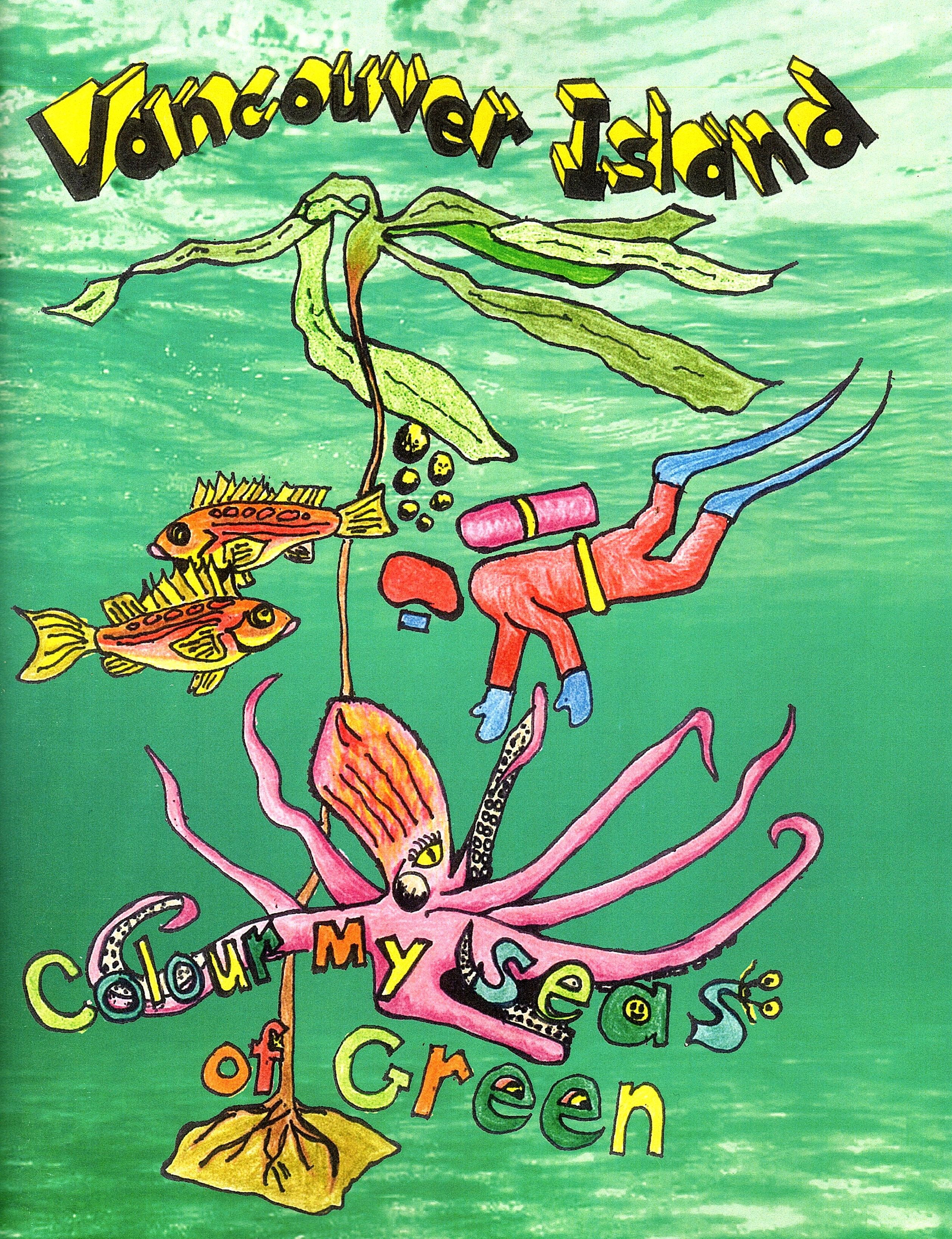 ---
"Pets Are People Too!"
My second effort where our Pets as the Stars

---
"Vancouver Island Colour My BC Beautiful"
My third effort where I highlight a visit to Vancouver Island and the things one might see and do during their visit

---
"British Columbia Canada Colour My Province Beautiful"
My fourth and most current release!

Here I have tried to find some of what I believe to be the best reasons to visit Beautiful British Columbia
(we don't put this on our license plates for nothing!)


---
Currently available at these Vancouver Island retail outlets
Victoria
Frank Whites Dive Store Phone: 250-385-4713
Duncan & Lake Cowichan

Deans Marine Phone: 250-748-0829
The Lake Mercantile Phone: 250-217-4333

Chemainus & Ladysmith
Chemainus Theatre - Gallery Gift Shop Phone: 250-246-9132
Little Otters Den Phone: 250-245-2042
Salamander Books Phone: 250-245-4726


Nanaimo
Children's Treehouse Phone:250-585-5990

Iron Oxide Art Supplies Phone: 250-591-4766
Literacy Central Vancouver Island Phone: 250-591-2665
Nanaimo Dive Outfitters Phone: 250-756-1863
Nanaimo to Newfoundland Phone: 250-753-9900
Pumpkin Pie Kids Phone: 250-754-3933

Sink or Swim Scuba Phone: 250-758-7946

Sundown Diving Phone: 250-753-1880
Parksville Qualicum
Bumblebaby Boutique Phone: 250-947-9714
Log Cabin General Store Phone: 250-248-2868

TIGH-NA-MARA Phone: 1-800-663-7373
Qualicum Toy Shop Phone: 250-752-1937
Comox Valley
Courtenay and District Museum Phone: 250-334-0686
Little Village Store Phone: 250-900-1954
Pacific Pro Dive Phone: 250-338-6829
Whale's Tale Toys Phone: 250-338-1233


Now also available in Horseshoe Bay, West Vancouver!

West Vancouver

Spirit Gallery Phone: 604-921-8972
Sea Dragon Charters Phone: 604-329-3486
These retail outlets are in Duncan/Lake Cowichan, Chemainus/Ladysmith, Nanaimo, Parksville/Qualicum, and Courtenay/Cumberland.
Interested in becoming a vendor? for details please contact me via email at <don.ravensbergen@gmail.com>

Some retailers do not carry all editions, so please phone first!
Thank you for your support!
Sincerely, Don Ravensbergen
Nanaimo, BC, Cda
---
---
Please help support my website through the purchase of my
self published Children's Story & Colouring Books

Follow the links to available Vendors
or use my "Contact Page"

---
Please sign up for Don's E-zine !