Octopus and Squid

---
Home Page> Vancouver Island Marine Life> Octopus and Squid>

---
Welcome to a page about Octopus and Squid, both of which belong to the family of Cephalopods. Here I share my thoughts, some facts, and some photographs, that I have been so very lucky to take, while scuba diving from Vancouver Island, British Columbia, Canada.
I have also added a few interesting YouTube videos that I think are worth sharing, I hope you enjoy them!

---
Giant Pacific Octopus at Madrona Point
on the Mid Wall

---
Hello and welcome!

For some time now, I have been noticing a huge increase in the public's interest, in Octopus, Cuttlefish, and Squid, which are all from the same family of Mollusks, or Cephalopods.

There are some interesting books, like "Super Suckers", which is an excellent narrative, co authored by James A. Cosgrove, and Neil McDaniel, which is full of interesting stories, facts, and photographs,  about these amazing and somewhat intelligent animals.

Also recently, an American naturalist, Sy Montgomery, has published an interesting read titled "Soul of and Octopus" which contains a lot of stories, informational observations proposed by the author, and photographs of her favorite aquatic friends.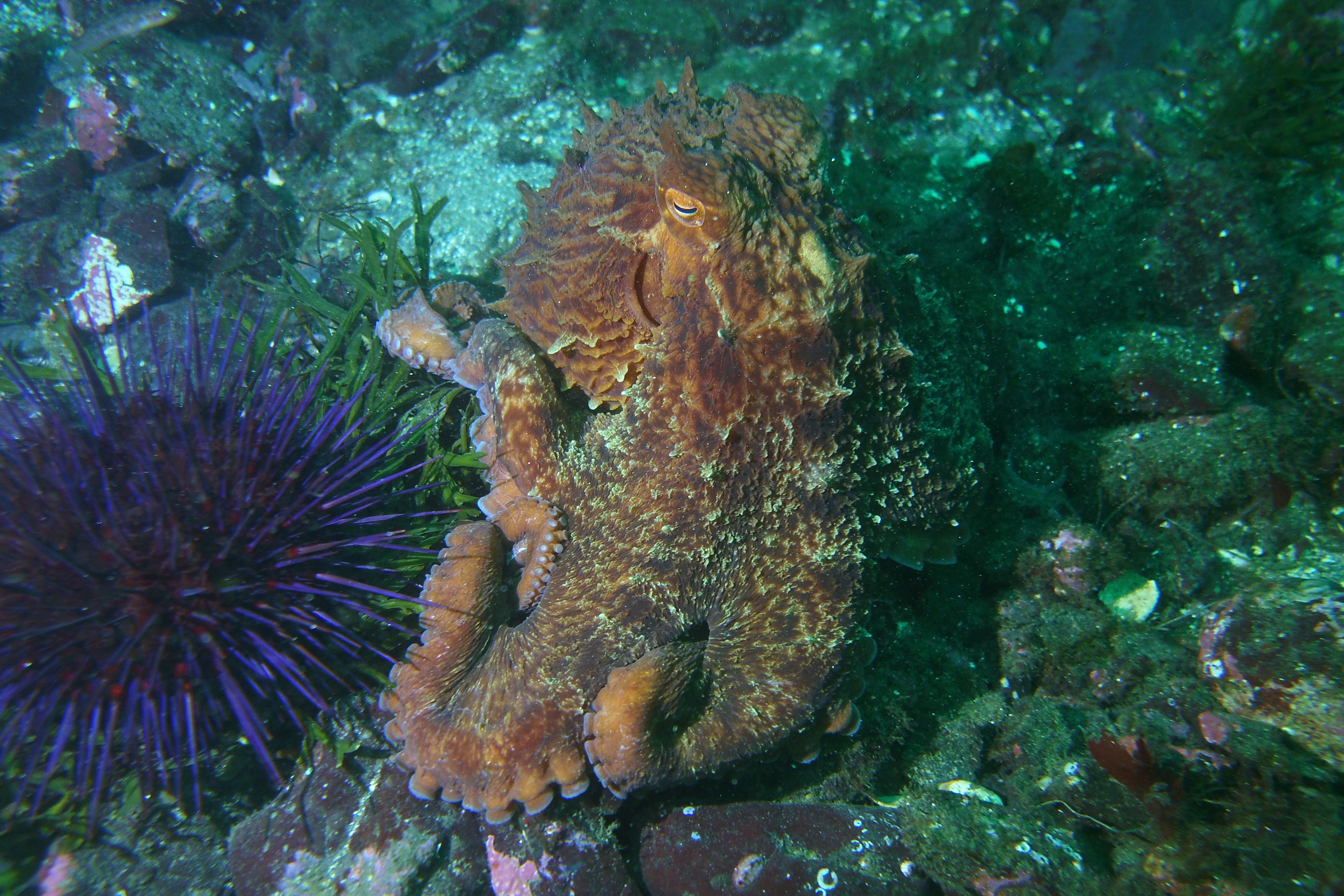 A magnificent specimen out of it's den at
Oak Leaf Park in Nanoose Bay area.

---
So what does an Octopus eat?
Well from what I have read, and observed, they probably like to eat crabs the best (Dungeness and Red Rock are the usual, as the Puget Sound King crab pictured below has a pretty tough and armored shell), and then followed closely in second, would be shellfish, though I am pretty sure that their diet is largely dictated by what is most available.

---
Above, a large specimen of a
"Puget Sound King Crab.
Beside, the remains of the same type of crustacean, only not so lucky!!

Below, an Octopus Den is often identified by empty shells or a crabs carapace and detritus, which the Octopus will always dispose of on their front porch, while leaving the den nice and tidy.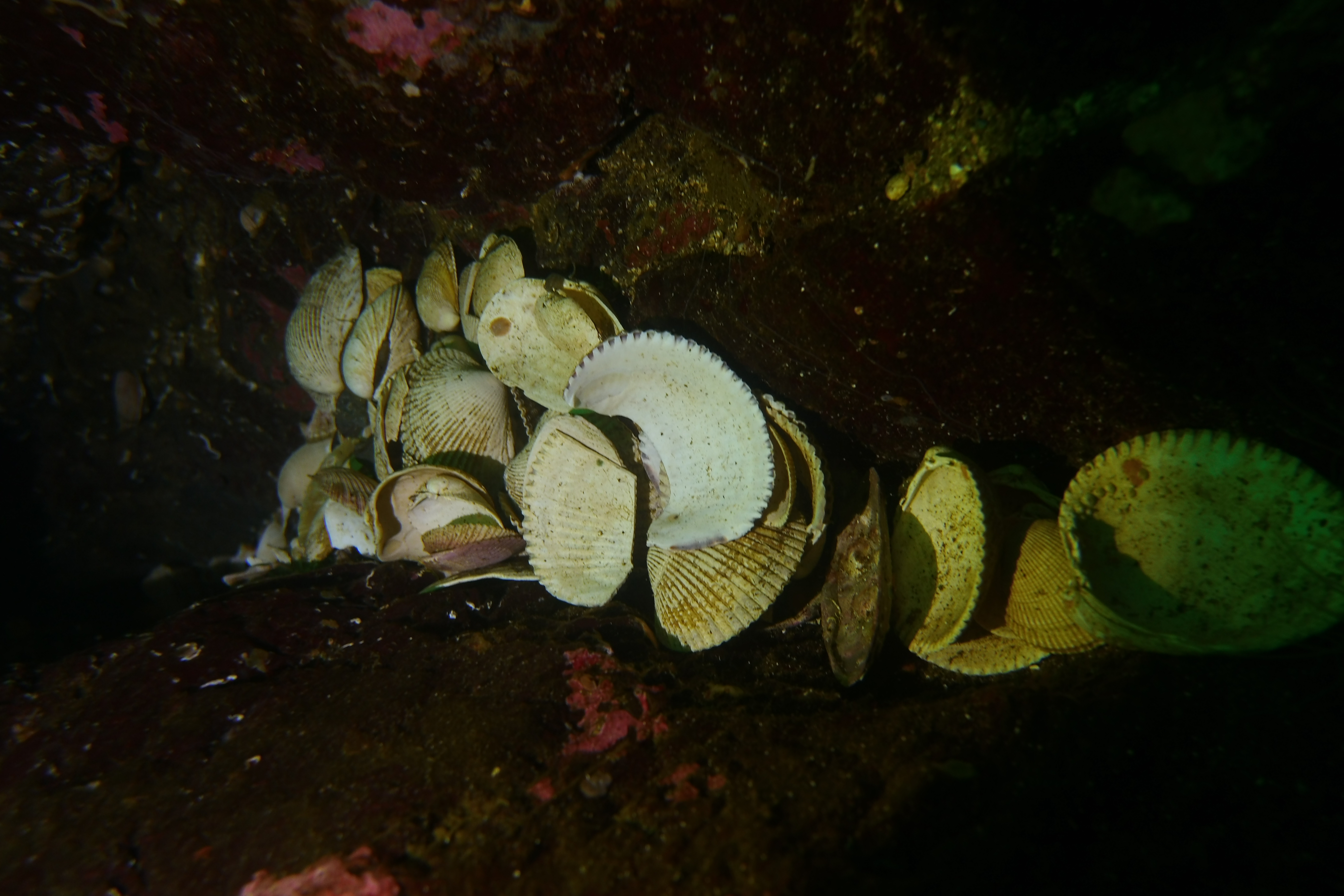 ---
---
Octopus and Squid, are from a family called Cephalopods, of which Cuttlefish, are also members. In several hundred dives I have seen many Octopus, but up until recently, when I hit 400 dives in 2019, the only sign of a squid, was finding the egg pods that they lay, and then leave behind, which are left to hatch, and fend for themselves.

The Squids parenting behavior is quite unlike the Octopus mother, who after laying her eggs, she gently cares for them until they hatch. She flushes them constantly with fresh oxygenated water, aerating the eggs with the fresh sea water from her siphon.
Foregoing all else, she doesn't eat, doesn't even leave the den, until they hatch, and then, shortly thereafter, she dies.

Below are some shots of a Stubby or Short Squid, which I finally got to see on my 398th dive, while diving the Small Wall at Madrona Point. I also added a Picture of a cluster of eggs from the same type of squid, that to me look like fat little tear drops, and lastly you will see some weird egg sacks that make me think of a college prank, but actually belong to the Opal Squid.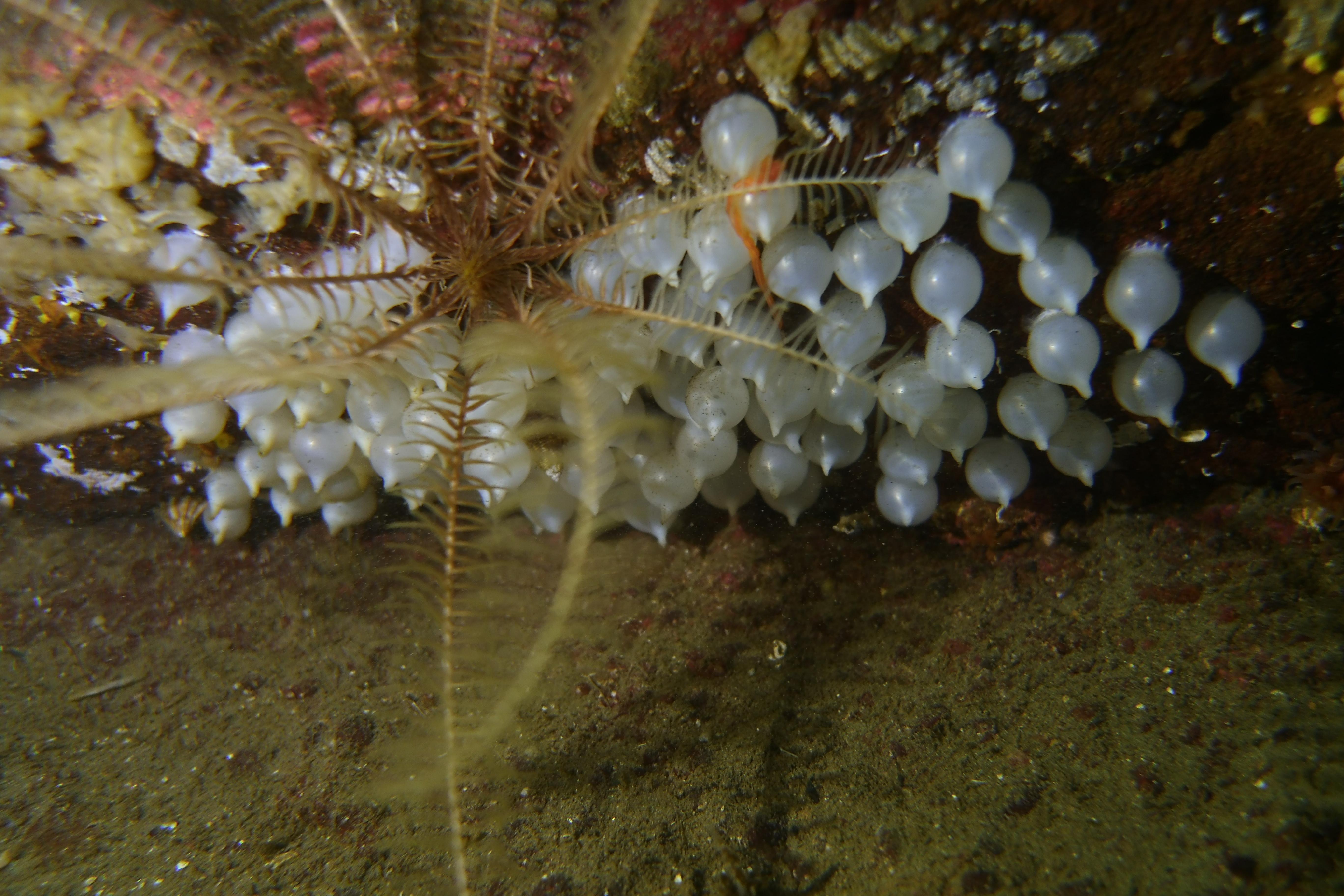 ---
---
Below a some shots of
Giant Pacific Octopus
in their dens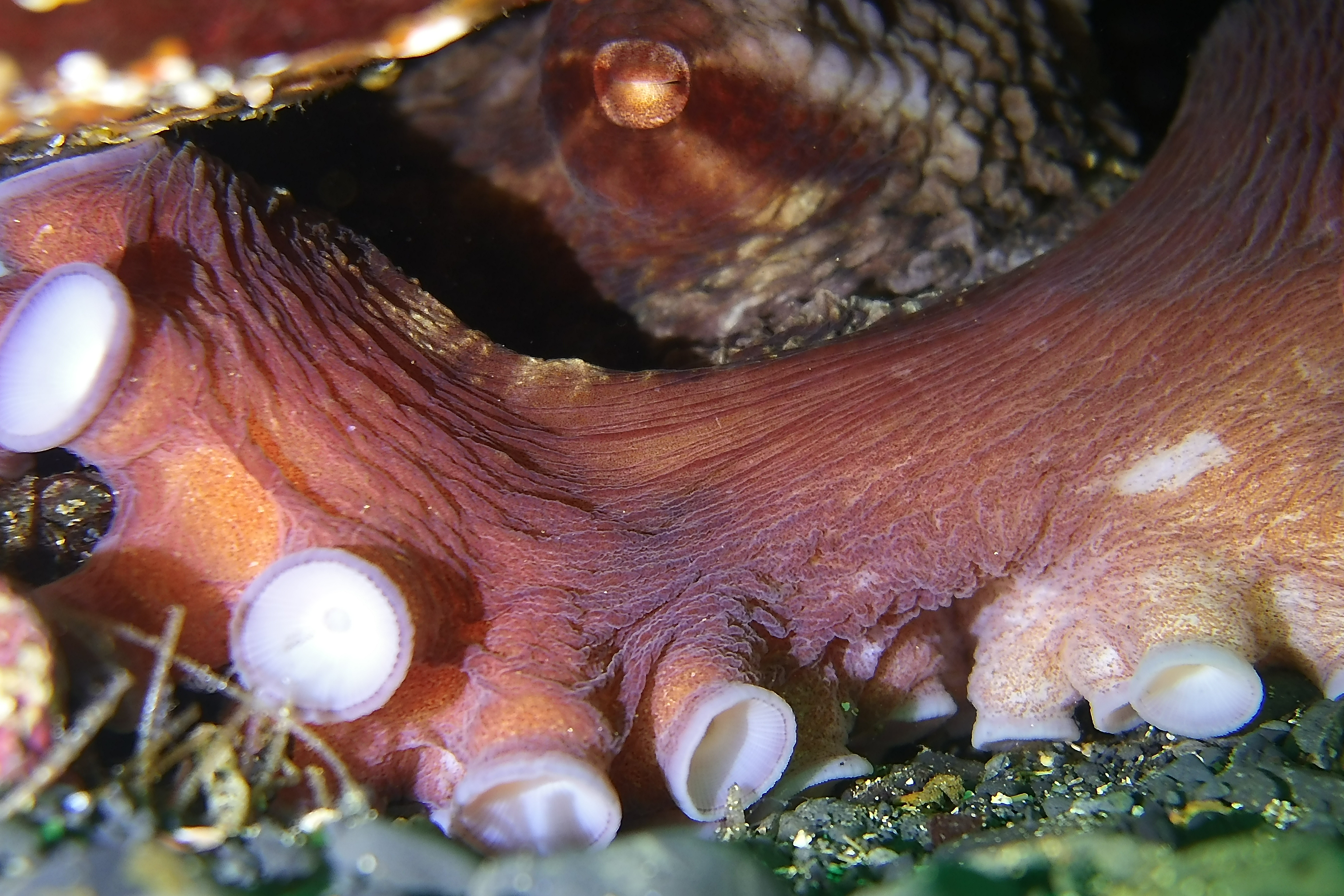 ---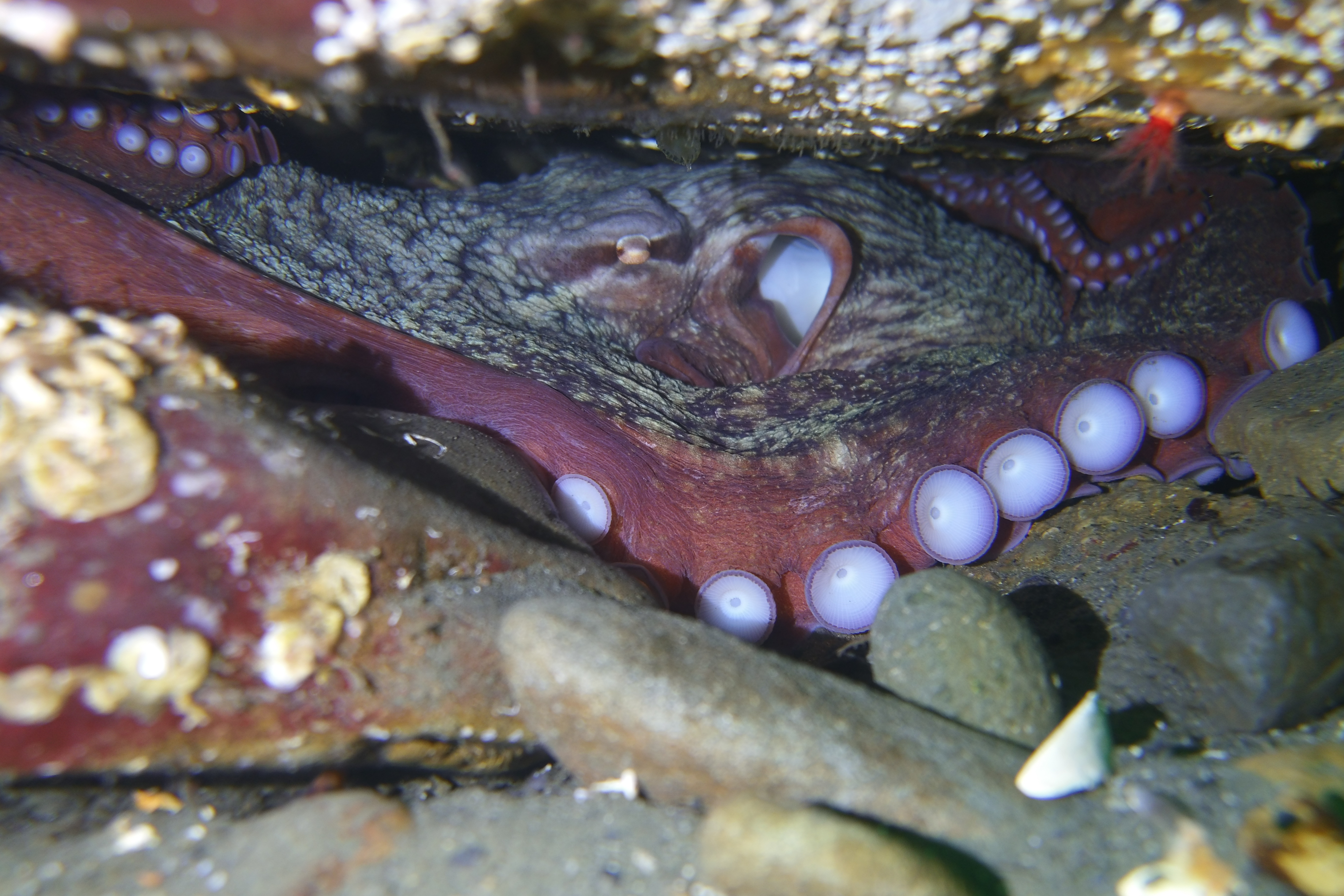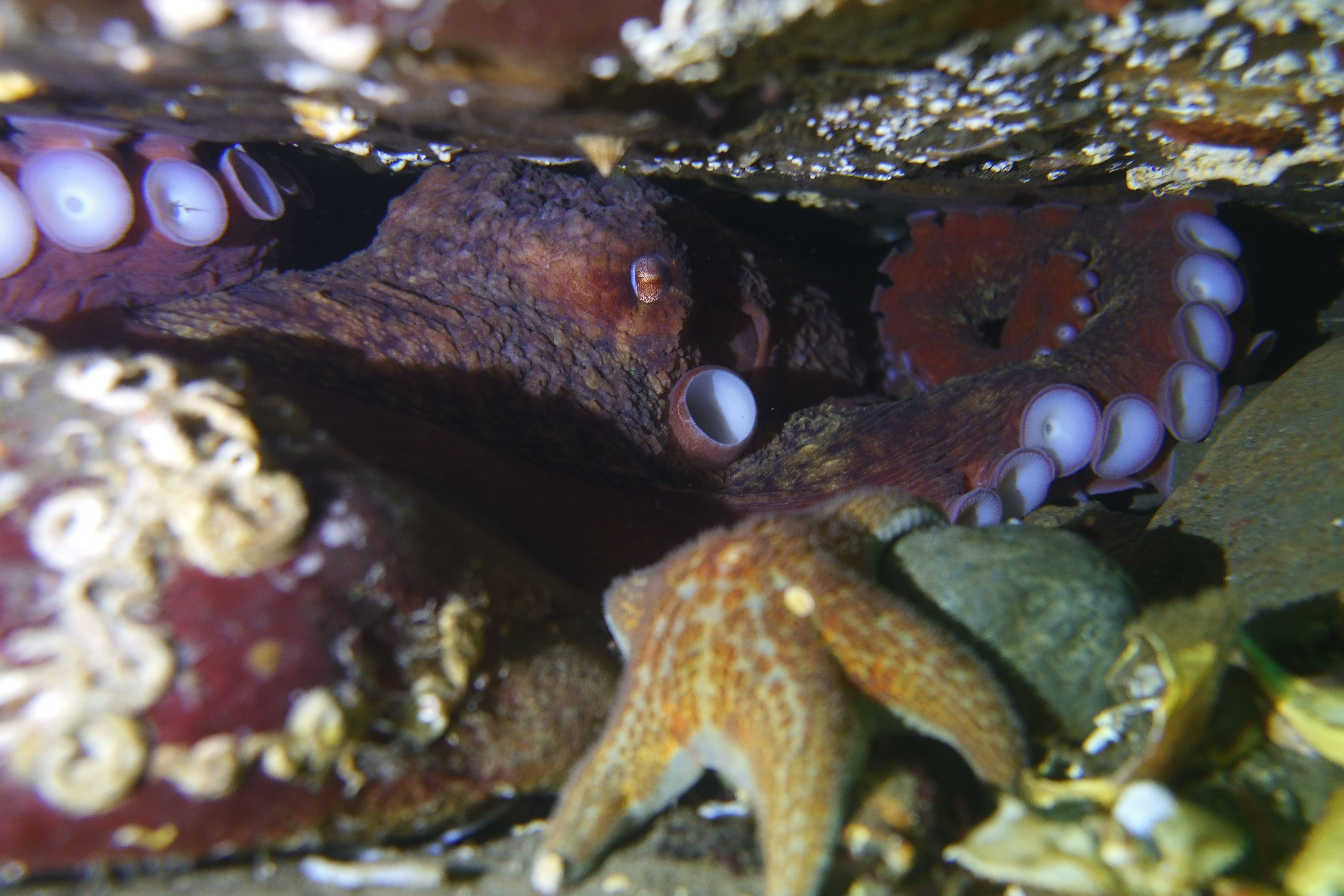 ---
Here are other pages that may interest you
---
You too can build a successful Website! Click here to find out how

---
---
Please sign up for Don's E-zine !